Getting Started
After registering with Dyn.rs Dyn.rs portalu and successfully verifying your email address by following the link in automatically generated mail message, on the Control Panel page you will see your primary hostname username.dyn.rs that has been already created for you. If you need to use Dyn.rs from several locations and different Internet connections, on this page you can create up to 4 additional 4th level hostnames (hostname.username.dyn.rs). On the same page, by clicking the button "Update Now" you can update the DNS data for your hostname with current public IP address assigned to your Internet connection.
To enable regular automatic updates for your hostnames, you need to choose and implement one of the following methods:
Router configuration
To update your primary hostname (e.g. username.dyn.rs), you can enter the full hostname, or just "-" (without quotes) as a Host Name.
To update any 4th level hostname (e.g. home.username.dyn.rs), enter just the first part of the hostname (home) in the given field.
For our Version 3 API, URL should be: /v3/update?hostname=
DD-WRT Example: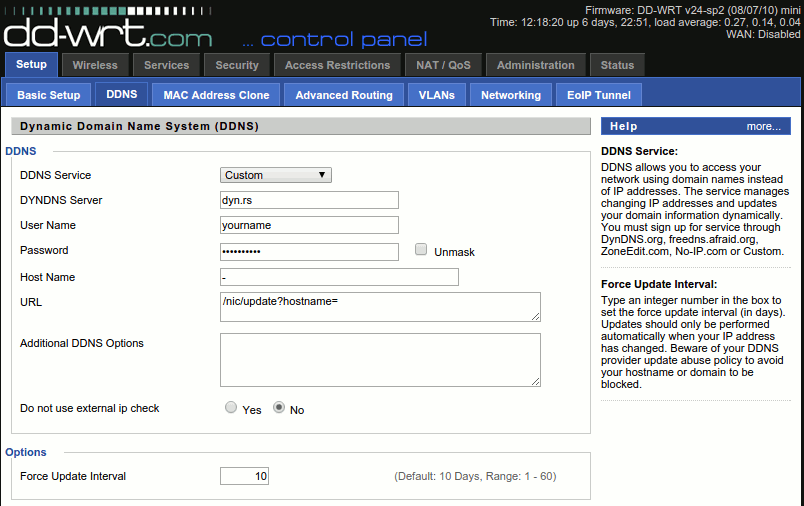 Huawei HG530 Example: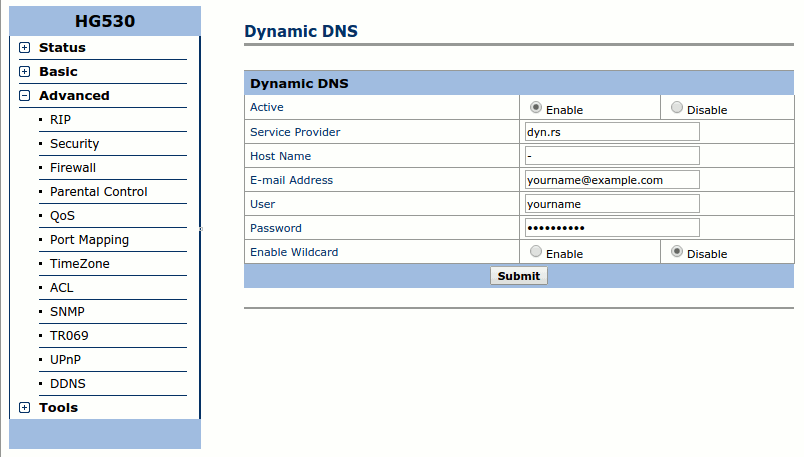 ---
Dyn.rs Windows client configuration
Download and install Dyn.rs client application for Windows.
If you get any warnings during the download or installation, you can ignore it and go on with the process. On Windows, in Internet Explorer browser, you can do that by clicking Actions in the lower part of the window, then Run anyway. You will get a ZIP archive which you need to unpack and start the executable program setup_ddns_client.exe.
The installation process itself is extremely simple and consists of only few clicks on the buttons Next and Finish. During the installation you can choose if you'd like the program to create a desktop shortcut icon, and finally whether you'd like the program to be run immediately or not. If you run the client, you will be immediately taken to the configuration window, the details of which are explained below.
After the successful configuration, the program will only be visible as an icon in your Task bar. You can right-click on the icon to get to the configuration options or to initiate the IP address update manually.
For this example we will use johndoe as our username.
During the Dyn.rs registration process, the primary 3rd level hostname has been already created for you: username.dyn.rs (in our example case that's johndoe.dyn.rs). Along with this primary hostname, you can create up to 4 more hostnames of 4th level: home.johndoe.dyn.rs, office.johndoe.dyn.rs, etc. Using the Dyn.rs portal, you can add or remove the additional hostnames at any time, while the primary hostname must exist as long as your Dyn.rs account. Any hostname has to be created on the dashboard page before it can be used or updated by the client program.
Windows Dyn.rs client can update one or more hosts at once. It will usually be your primary host. In case you have several locations that will use Dyn.rs, the easiest way is to have one update client on each location, each with its own hostname settings. To update more than one hostname simultaneously, you can specify them all in the Hostname field, separated by commas.
Let's start with the basic configuration. When you start the program for the first time: 
1. Field Username: enter your Dyn.rs username that has been successfully verified and activated).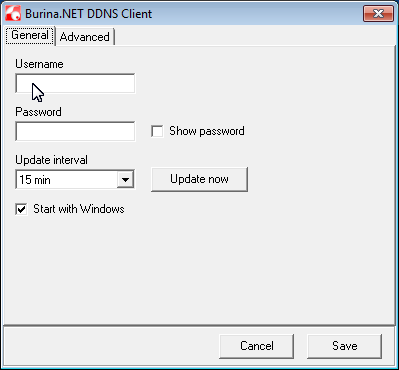 Picture 1
2. Field Password enter your Dyn.rs password: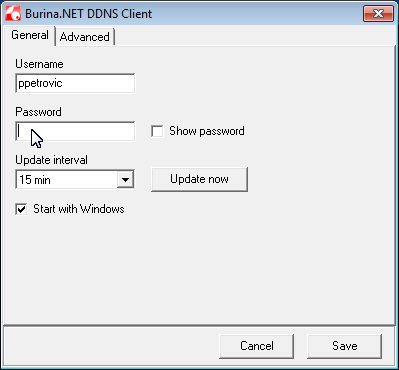 Picture 2
3. Select the check/update frequency. We recommend setting the Update Interval to 5 minutes.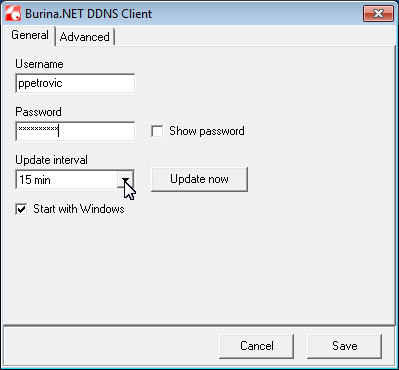 Picture 3
4. If you'd like the client to start automatically with Windows, make sure the checkbox Start with Windows is checked.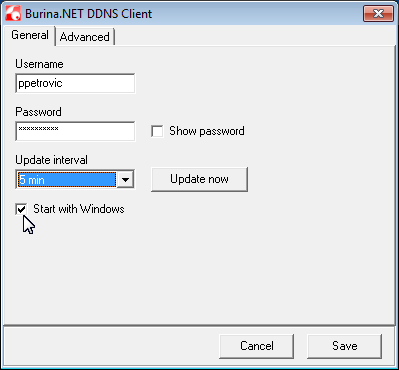 Picture 4.
5. If this client will update your primary hostname, enter johndoe.dyn.rs, just click the Save button, which completes the basic configuration. If this client will be updating some of your 4th level hostnames, e.g. "home", continue with step 6.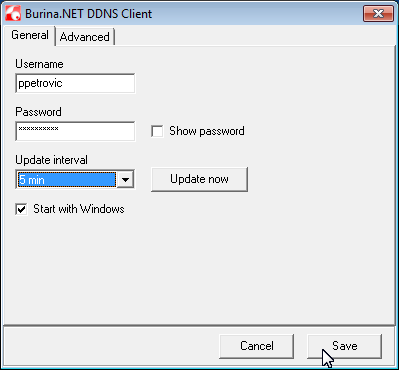 Picture 5
6. Click on the tab Advanced at the top of the window. The parameter Post data has been initially set to  Default.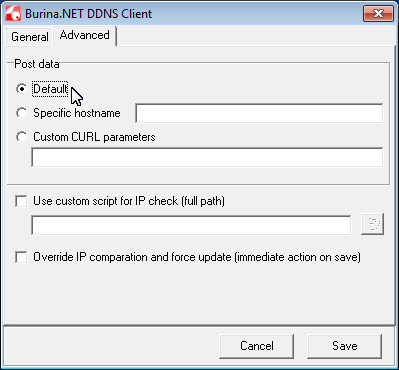 Picture 6
7. To set the client to update the hostname "home" home.johndoe.dyn.rs, select the option Specific hostname ...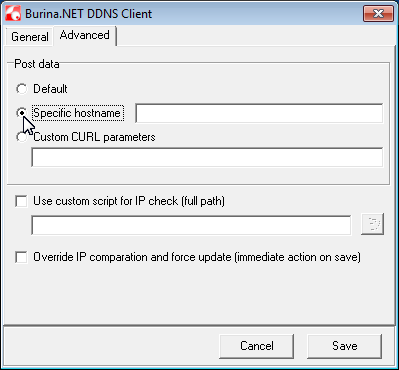 Picture 7
8. Enter the name of the hostname in the field, either a full hostname or just the 4th level part. In our example: home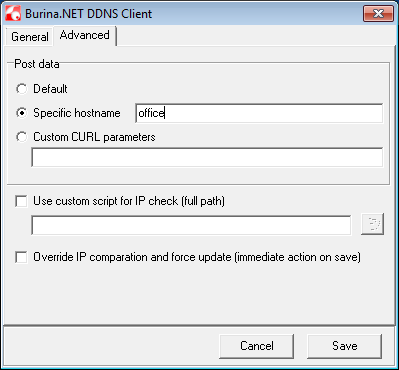 Picture 8
9. And finally, you can choose to perform the first update immediately, by checking the last option: Override IP comparation and force update... To finish the configuration, click Save.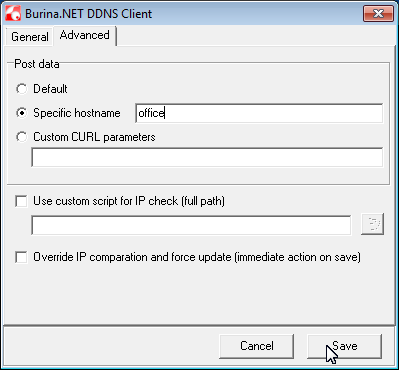 Picture 9
This completes the basic configuration of Dyn.rs Windows client. We wish you pleasant surfing! :)
For advanced usage and more specific needs, Dyn.rs client offers some more options (maybe you noticed we have skipped some fields in Advanced window):
Dyn.rs Windows client - Advanced configuration
Dyn.rs client for Windows uses a curl backend to communicate with server API.
In Advanced options it is possible to set custom CURL parameters for the Post Data, in which case you need to specify the complete set of options and arguments. The standard options are:
-ks --basic -u username:password -d "hostname="
POST_DATA has to contain the parameter hostname, even if empty, and optionally myip for the I address.
Update URL: https://dyn.rs/v3/update
So, the arguments for updating the primary hostname johndoe.dyn.rs would be:
-ks --basic -u username:password -d "hostname=" https://dyn.rs/v3/update
or
-ks --basic -u username:password -d "hostname=-" https://dyn.rs/v3/update
There is no real need to hard-code the parameter myip, but in case you need it, you can create your own script or program which will return your IP address based on your needs. The format of returning data has to be only a plaintexr IP address, without any additional characters, HTML tags, etc..
In this case turn on the optin Use custom script for IP check and enter the full path of your own executable.
The IP address returned this way can be specified in curl parameters using a macro [IP], so the complete line for Custom CURL parameters would be:
-ks --basic -u username:password -d "hostname=&myip=[IP]" https://dyn.rs/v3/update